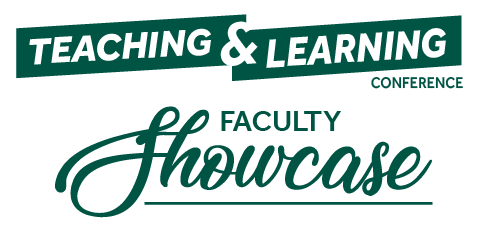 The
Faculty Showcase
is the University of Miami's premiere teaching and learning event – an annual gathering where faculty share, network, and discover the ways in which their colleagues are enriching student experiences through innovative pedagogies and learning technologies. Led by faculty for faculty, this one-day conference aims to support faculty development and enhance student learning.
The Faculty Showcase is hosted by Learning Innovation and Faculty Engagement and is part of UM's Platform for Excellence in Teaching and Learning (PETAL).

…Read more
Less…
A Case-Based Interdisciplinary Course for UM Students: Global Challenges addressed by Engineering and TechnologyDerin Ural, Professor in Practice and Associate Dean of…

Adapting Clinical Skills For Virtual Learning Through Telemedicine And Hybrid Simulated Patient Encounters Samantha Syms, MS, CHSE, Director, Standardized Patient…

Adapting Professional Coaching & Leadership to Increase Students' Self-Concept in the Classroom Marisol Capellan, Lecturer, Business ManagementIn this session,…

Advancing Clinical Reasoning Using Standardized Patients and Layered Complex Cases Neva Kirk-Sanchez, Associate Professor of Clinical, MSOMGreg Hartley, Associate…

Blackboard Ultra: Is the Ultra Course View Right for Me?Gemma Henderson, Director of Learning Platforms Following the May 2021 update to the Ultra Base Navigation,…

Bringing Experiential Learning to the Classroom Melissa Jane "MJ" Barnes, M.S., Lecturer and Managing Director of Orange Umbrella Consulting, Communications…

Engaging Students with Google JamboardAshley Falcon, Assistant Professor of Clinical, School of Nursing and Health StudiesGoogle Jamboard is a digital interactive…

Gameful Learning Techniques to Address Hybrid Classroom ChallengesCourtney Dumont, Assistant Professor of Biomedical EngineeringGameful learning allows students to…

GeoMuseUM: Geolocative App of Campus Public Sculptures used to Sculpt Innovative Curriculum and MusicLien Tran, Assistant Professor of Interactive Media; Diana…

Hands-on Teaching in a Hands-Off Environment Elsa Drevyn, Clinical Assistant Professor and Director of Clinical Education and Vice Chair for Clinical Education; Sabine…

Inclusive Teaching PracticesMiriam Lipsky, Assistant Provost for Institutional Culture, Office of Institutional Culture and School of Education and Human DevelopmentThis…

Integrating Oral Exams and Interactive Presentations to Test Substantive Knowledge and Build Practical IntelligenceMark Shapiro, Associate Professor of Practice and…

Introduction to Medical Profession: Social Determinants of HealthJeff Brosco, Professor of Clinical Pediatrics; Kim Reynolds, Assistant Professor of Clinical; Laura…

Learning with the Lowe: Encouraging Dialogue and Discussion Among Students Using Art Objects Matthew R. Deroo, Assistant Professor of Digital Literacies for…

Let's Integrate Technology to Increase Student Engagement and Outcomes, More Than the Basics!Kirsten Schwarz, Lecturer, Teaching, and LearningThe integration of…

Mindful Looking: A learning experience for student well-being and discoveryHope Torrents, School Programs Coordinator and Director of the Fine Art of Healthcare Program,…
Search for ""