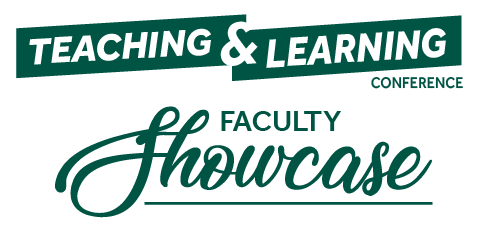 The
Faculty Showcase
is the University of Miami's premiere teaching and learning event – an annual gathering where faculty share, network, and discover the ways in which their colleagues are enriching student experiences through innovative pedagogies and learning technologies. Led by faculty for faculty, this one-day conference aims to support faculty development and enhance student learning.
The Faculty Showcase is hosted by Learning Innovation and Faculty Engagement and is part of UM's Platform for Excellence in Teaching and Learning (PETAL).

…Read more
Less…
Adapting Clinical Skills For Virtual Learning Through Telemedicine And Hybrid Simulated Patient Encounters Samantha Syms, MS, CHSE, Director, Standardized Patient…

Gameful Learning Techniques to Address Hybrid Classroom ChallengesCourtney Dumont, Assistant Professor of Biomedical EngineeringGameful learning allows students to…

GeoMuseUM: Geolocative App of Campus Public Sculptures used to Sculpt Innovative Curriculum and MusicLien Tran, Assistant Professor of Interactive Media; Diana…

Hands-on Teaching in a Hands-Off Environment Elsa Drevyn, Clinical Assistant Professor and Director of Clinical Education and Vice Chair for Clinical Education; Sabine…

Inclusive Teaching PracticesMiriam Lipsky, Assistant Provost for Institutional Culture, Office of Institutional Culture and School of Education and Human DevelopmentThis…

Introduction to Medical Profession: Social Determinants of HealthJeff Brosco, Professor of Clinical Pediatrics; Kim Reynolds, Assistant Professor of Clinical; Laura…

Learning with the Lowe: Encouraging Dialogue and Discussion Among Students Using Art Objects Matthew R. Deroo, Assistant Professor of Digital Literacies for…

Open Access & Open Educational Resources: UML Supporting Equitable Teaching & LearningDr. Cameron Riopelle, Head of Data Services at UM Libraries; Prof. Joy M.…

Race, Housing and Displacement in Miami: Using Digital Technologies to Make History Accessible to the Public Robin Bachin, Charlton W. Tebeau Associate Professor of…

So You Want to Talk About Race: Using This Year's Common Read Text in Your Classroom Meg Homer, Assistant Director of the Center for Humanities; Ava Brillat,…

Strategies for Student Engagement Sarah Cash, Lecturer, English The proposed presentation will showcase several teaching innovations for the fully online and hybrid…

Taking Harkness Dialogue Course Online Ashmeet Oberoi, Assistant Professor of Professional Practice, and Ryan Schooley, PhD Student, Educational and Psychological…

The Next Blackboard: How We're Transitioning to the New Blackboard Learn Ultra LMS Peter Martinez, Director of the Learning Platforms TeamIn this session, Peter…

The Use Of An Online Software Platform to Enhance Student Engagement Carmen Presti, Assistant Professor of Clinical, School of Nursing and Health StudiesDuring the…

Using Padlet to Engage Students Christine Delgado, Research Assistant Professor; Rebecca Shearer, Associate Professor; Jennifer Britton, Associate Professor,…

Using Portfolios in Blackboard for Branding Development Neri Garcia, Lecturer, Strategic CommunicationAdapting our course assignments to the online format comes with…
Search for ""